In stock
LOIS Origami Dripper
$34.00
Description

Additional information
Barista's Dream Dripper That Inspires Your Creative Mind
<NOTE: This product DOES NOT come with a holder. Please purchase a holder separately here.>
Features
Makes up to 2 cups of pour-over, filter coffee
Achieves professional standards of flavor control
Comes in a beautiful box with design blueprint
Details
Material: Ceramic (Mino-yaki)
Size: Suitable for use in microwave/oven/dishwasher
Use Kalita Wave filter (155)/ Hario V60 filter (01) or other cone-shaped filter
Made in Japan
Some may came across "Origami" before – ori means "folding", and g(k)ami means "paper" – which is a Japanese art of paper folding (paper cranes may be the most famous of this kind.) This beautiful ORIGAMI Dripper is inspired by the spirit of the playfully colorful, creative but delicate craft loved for centuries.
The Origami Dripper is one of the most beautiful pour over brewers on the market. It doesn't only look great though—it has the potential to make an excellent cup of coffee. This Origami pour over recipe comes from Alexander Mills. Alex has one of the most helpful coffee Instagram accounts that always features down to earth, incredibly helpful and approachable coffee tips. The Origami is a great brewer because it allows you to brew smaller doses. This small, 12.5 gram recipe is great because it's repeatable and scaleable. One bloom followed by one pour is about as simple as it gets, and if you want to brew more volume then you can easily scale the recipe using a 1:16 ratio (keeping the bloom and single pour).
Origami Dripper Pour Over Recipe
A small, incredibly simple pour over coffee recipe for the Origami brewer.
EQUIPMENT
Origami pour over dripper

Coffee filters
INGREDIENTS
12.5 grams coffee ground medium fine to fine
200 grams 210°F (99°C) water
INSTRUCTIONS
Grind coffee, pre-rinse filter and add coffee to filter

Bloom coffee with 40 grams of water and agitate with a few gentle swirls of the dripper

At 0:40 pour the rest of the water (160 grams) in slow, concentric circles up to the target weight, finishing with your last pour around the outside of the filter. Gently swirl the brewer one more time.

Allow the water to draw down. The total brew time should be around 2 minutes.
NOTE
If you want a larger brew, simply scale this recipe using a 1:16 ratio and keep to a single bloom and one long pour.
Prefer a more visual version of the brew recipe?
I created infographics of each recipe, which you can see below. You can also find it on Instagram here.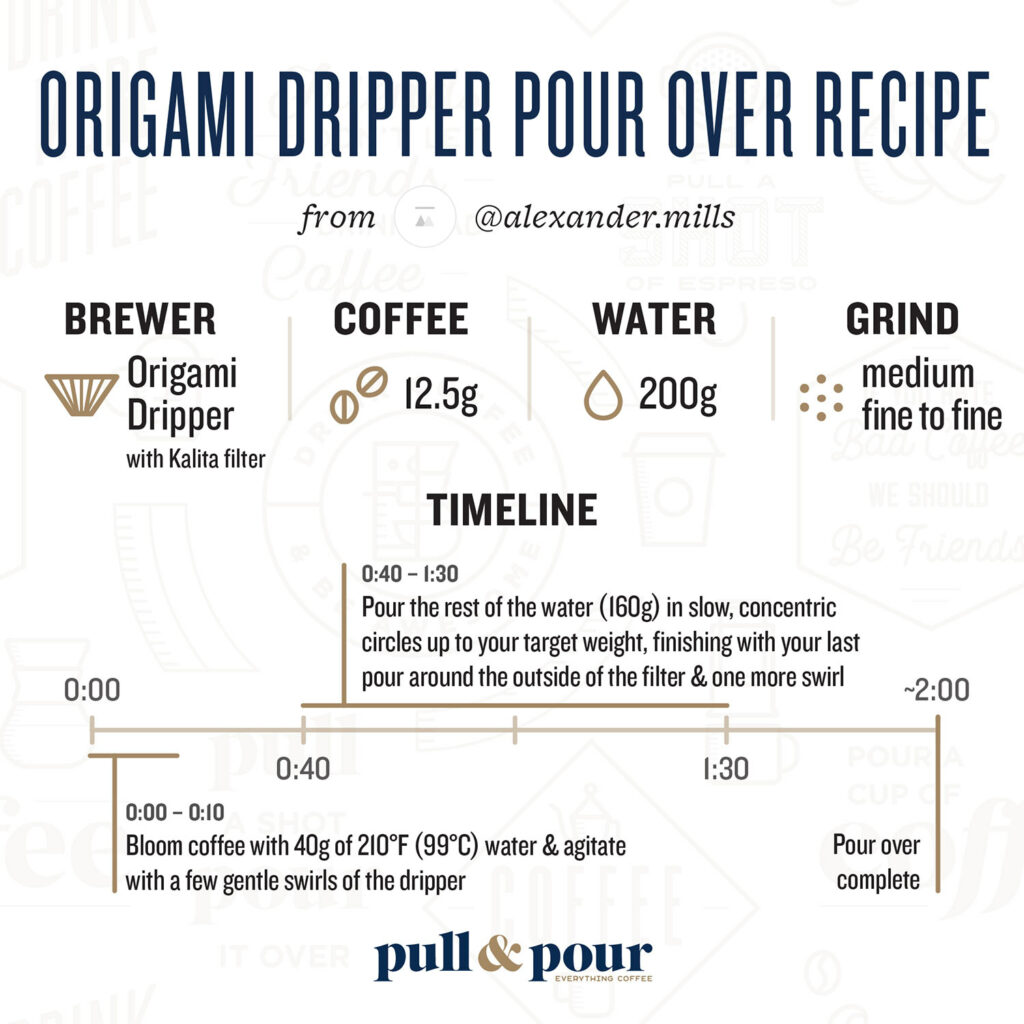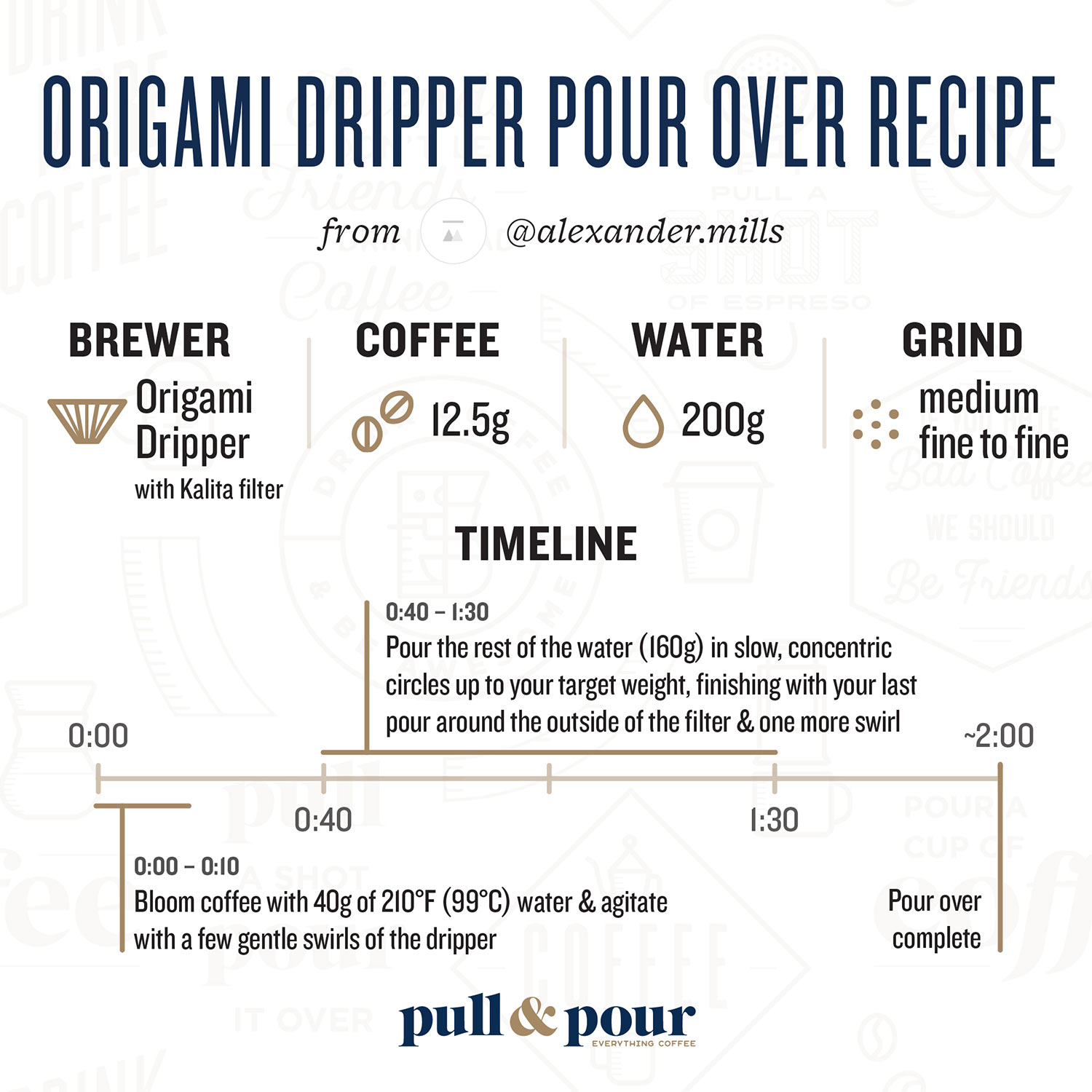 LOIS
LOIS brings high quality sustainable design into your home.
At LOIS, we aim to bring beautifully designed Japanese brands into your life. We believe in supporting both dedication to craft and innovative ideas. Celebrate breakfast, brunch, lunch or anytime with handmade pour-over coffee.
We will share stories about how each item is designed and made. From starting your day making a pour over coffee to preparing bento meals that can be enjoyed anywhere, we carefully select products based on our mission to offer quality, sustainability, and beauty.
At LOIS we want you to be part of a community, where you can connect with like-minded people to find, exchange and share ideas that will be inspirational for your own sustainable lifestyle goals.
| | |
| --- | --- |
| Color | Muted Green, Orange |