4 in stock
BLACK DAHLIA Sea Salt Caramel CBD Bonbons
$60.00
4 in stock
Black Dahlia Sea Salt Caramel CBD Bonbons deliver sublime satisfaction.
Draped in a crisp dark chocolate shell to reveal a velvety, browned butter caramel ganache center.  Infused with a touch of sea salt for sweet and savory bliss.
Each bonbon contains 20mg of our specially-formulated, nano CBD-rich hemp oil.
Seven (7) chocolate bonbons in each box.
Black Dahlia Sea Salt Caramel CBD Bonbons are all-natural, gluten-free, THC-free, non-GMO, and alcohol-free and handmade with love in LA. *Contains Dairy
INGREDIENTS–
Caramel (non-GMO milk chocolate, broad-spectrum water-soluble hemp oil (phytocannabinoid-rich hemp oil, medium-chain triglycerides (coconut), sobitol, lecithin (soy), tocopherol), sea salt, natural flavors, sugar, cream, butter), Non-GMO Dark Chocolate, Cocoa Butter
NUTRITION FACTS–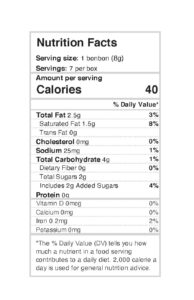 HOW TO CBD–
There are many ways to enjoy the relaxing, calming benefits of CBD products.  Start with one Black Dahlia CBD bonbon and wait up to two hours for full effect.
Statements made on our website have not been evaluated by the U.S. Food and Drug Administration (FDA). Our products are not intended to diagnose, treat, cure or prevent any disease. Please consult with a physician prior to use.