4 in stock
BLACK DAHLIA Grand Cru Chocolate Noir CBD Bon Bons
$60.00
4 in stock
Grand Cru Chocolate Noir 64% CBD Bonbons will satisfy the most discriminating chocolate aficionado.
An intense burst of velvety dark chocolate, ethically-sourced from rare terroir in Madagascar, reveals notes of sensuous red fruit, slowly melting in the mouth for ultimate satisfaction.
Each bonbon contains 20mg of our specially-formulated, nano CBD-rich hemp oil.
Seven (7) Grand Cru CBD Bonbons in each box.
Black Dahlia Grand Cru CBD Bonbons are all-natural, vegan, gluten-free, THC-free, non-GMO, alcohol-free and handmade with love in LA.
INGREDIENTS–
Non-GMO dark chocolate, vegan butter (palm kernel and palm oil, water, sunflower and canola oil, salt, sunflower lecithin, faba bean protein, citric acid, natural flavor, beta carotene (color), vitamin A palmitate), powdered sugar, broad-spectrum water-soluble hemp oil (hemp oil, medium-chain triglycerides (coconut), sorbitol, lecithin (soy), tocopherol), vegan cream (water, faba bean protein, canola oil, palm kernel oil, palm oil, sugar, modified corn starch, sucrose esters of fatty acid, salt, guar gum, sunflower lecithin, locust bean gum, beta-carotene, natural flavors), cacao butter.
NUTRITION FACTS–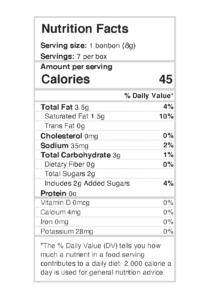 HOW TO CBD–
There are many ways to enjoy the relaxing, calming benefits of CBD products.  Start with one Black Dahlia CBD bonbon and wait up to two hours for full effect.
Statements made on our website have not been evaluated by the U.S. Food and Drug Administration (FDA). Our products are not intended to diagnose, treat, cure or prevent any disease. Please consult with a physician prior to use.